How do I synchronize my character and create a profile with Magelo Sync?


---
1.
Run the "Magelo Sync" program and log in
using your Magelo username and password. If you do not have one yet, you can register for a Magelo account here.
2.
Choose your game from the games list
by clicking on the icon. This will launch the game software. If it's the first time you use Magelo Sync you will need to launch your game manually if it's not started already.

3.
Log into the game
. Magelo Sync will automatically detect your character once it has logged in. Press the "
Sync Now!
" button to sync it. If the auto-Sync feature is enabled, it will automatically Sync the character information without using the button.

4.
Your character profile has been successfully created
! You can view it by clicking on your character name in Magelo Sync. With a Free account you will need to log into your Magelo account on the website to provide your character gear.
5. You just need to press the "
Sync Now!
" button to
update your character profile whenever you wish, as many times as needed.
Find
below a profile sample
. You just need to click on it to see the character profile in real size.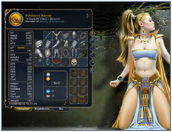 If you have problems running Magelo Sync, please let us know in our
Bug Report forums
!
Don't hesitate also to read the followed FAQ entry:
If I have an issue with Magelo Sync, what can I do?
.