A brand new Characters Ranking is now available! We fixed few bugs and implemented new features to make this tool more powerful and easy to use.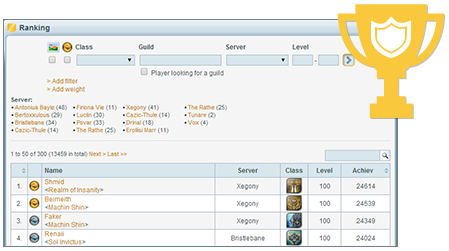 The Ranking is by default now ordered by Achievement score.
Private profiles are no longer displayed.
There is no difference anymore between statistics in your profile and statistics in the Ranking.
You can now rank people within a given guild.
You can add filters to shape your search and weights to score them. All statistics are now available as filters and you can create some advanced class ranking with weights.
The new Ranking is fast and real time. As soon as you sync, the Ranking is updated.
You can share easily your results with your friends thanks to a new friendly URL.
The Ranking is now accessible from the Tools section of the website.

A list of players looking for a guild is also now easily accessible through the Ranking. So if you are looking for a guild, don't hesitate to fill the quick form in your character management page to help guilds find you!


Druid ranked by Mana and then by HP (same as the old system)
Cleric ranking with approximate weights
Warrior main statistics review in Enceladus guild

The next step would be to come up with some weights for each class to create proper class ranking out of the box. We need your help to get this done properly so don't be shy and let us know what you think.



Thanks in advance for your comment!