The 20th expansion of EverQuest: Call of the Forsaken is now live today (October 09, 2013).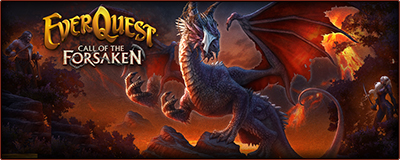 Many new features are available with this new expansion including a new storyline, four additional zones, enhancements to the mercenary system, heroic adventures, and more raids. You can learn more in the official EverQuest website.



Magelo Sync has been patched !

With lots of new content in the expansion, as always we will rely on you to keep our database up to date. So as soon as Magelo Sync will be ready, simply run it while you play! Thank you in advance for your contributions.

With the launch of the new expansion, we also wanted to give you a quick overview of the recent changes and new features we add on the website:

Character profiles creating during the Premium trial are now private – only the owner of the character can see them. This privacy will be lifted at the end of the 10 days trial.
For those of you who have a Magelo free account, you will be happy to know that your characters AAs, Skills and Languages are now fully synced with Magelo Sync. No manual edition for those data anymore! You still need to manually update your character equipment but the other details are taking care of.
The Achievements are now available in the database. Enjoy!
A new My collectibles tool is now available to help you keep track of all the things you collect in the game, starting with your spells and disciplines and your achievements. We will probably add more in the future. So there is no direct access anymore to the previous Missing spells and disciplines tool as we moved it in this new section of the website for consolidation.

That's it! It would be nice to hear what you think about those changes, so please take a minute to post your feedback in the forum. Thank you and have a good time in Call of the Forsaken!