Sony will offer webcast during downtime

---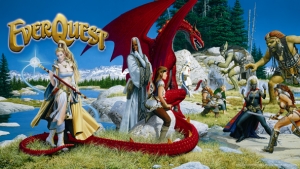 Sony has announced that there will be a 24-hour maintenance cycle beginning on Wednesday, March 15th beginning at 12:01 PDT as EQ prepares for its previously announced Free-to-Play conversion, as well as content for celebrations for its 13th birthday.

During the downtime, Sony has announced there will be a special webcast on their TwitchTV channel beginning at 4:30 PDT and a podcast will be released on the SoE site marking the occasion.

Quoting the entire announcement as found on the EverQuest Community Forums:

On Thursday, March 15, 2012, at 12:01 AM PDT* (midnight) the EverQuest servers will be taken offline in preparation for the launch of EverQuest Free to Play. Your Way. Downtime is expected to last until Friday, March 16, 2012, at 12:01 AM PDT (midnight).

This year we are combining the Anniversary update with EverQuest going free-to-play, so the servers will be down for a full 24 hours. More information about the 13th Anniversary will be posted later this week.

While the servers are down you can join us on the EverQuest forums, the EverQuest Facebook page, and on the [EverQuest Twitter feed for updates, games, and more! We will also have an EverQuest Anniversary webcast on Twitch.tv starting at 4:30 PM PDT, and we will release an EverQuest themed podcast.

Mark your calendars and get ready for one huge celebration, with the 13th Anniversary events and the transition to free-to-play both coming on March 16th!


Also during the downtime, don't forget to check out our Class Question Q&A contest and enter to win some nifty prizes!

We will also bring you additional updates and announcements as they are released.